Fun photos from homemade Lamb Seasoning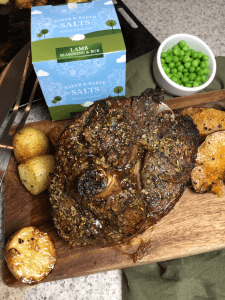 A little bit of fun using our lamb seasoning & rub smoked snowflake salt. This was a homemade roast we made using home ingredients of potatoes, pumpkin, peas & lamb.
We heated the oven and added a little oil, rubbed a thin amount of the snowflakes over the lamb and cooked. Halfway through we added a little more snowflakes until the lamb was cooked to our liking.
The blend of the rosemary, mint, smoked snowflakes, garlic & pepper really brings this lamb flavour out with so much taste and is such an easy way of making lamb.